SUN WORLD BADEN MOUNTAIN
Located 11km in the northwest Tay Ninh, Ba Den Mountain is famous for its pristine natural scenery and long-standing spiritual architectural complex. With a height of 986m, this mountain is dubbed the "roof" of the Southern Vietnam.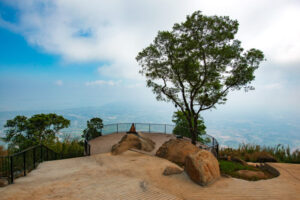 Ba Den Cable Car
Sun World BaDen Mountain offers 2 cable car routes to serve the needs of visitors. Instead of the difficult journey as before, all visitors from the old to the young… will be able to move quickly and gently when visiting Ba Den Mountain.
Van Son Cable Car route: takeing visitors to conquer the peak of Ba Den Mountain – the roof of Southern region.
Hang Pagoda Cable Car route: taking visitors to the spiritual cultural complex of Ba Pagoda, Hang Pagoda…
Ba Den cable car project is provided by the world's leading manufacturer Doppelmayr Garaventa to pass the most stringent safety censorship cycles, ready to provide visitors a great travel experience.
Spiritual cultural complex of Ba Pagoda
Locatd at a height of 350m in the middle of the mountain is Ba pagoda system, the oldest pagoda in Tay Ninh with many mysterious legends. With Ba pagoda, Hang pagoda, Dong Hoang Chung, Trung pagoda, Moi pagoda… Ba Den Mountain is most famous spiritual lands in the South.
All the structures here suffer the devastation of wars. However, this relics has now been embellished spaciously, attracting numerous tourists on pilgrimage and enjoying the spectacular natural scenery.
The land of heritage and festivals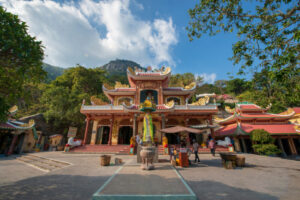 On August 14, 2019, the "Via Ba Feast of Linh Son Holy Mother on Ba Den Mountain" officially became a National Intangible Cultural Heritage. This is considered one of the major folk festivals in Tay Ninh in particular and in the Southeast in general. The festival lasts from the 4th to the 6th of the lunar May, combining solemn Buddhism rituals and playful folklore activities.
Especially, at the beginning of the lunar January every year, Spring Festival takes place with a large number of visitors. The special art programs, fireworks, sports competitions and unique folk games attract not only believers but also visitors. The lunar January is when everyone wishes to be immersed in joyful spring activities and pray for a peaceful and jubilant new year.
SUN WORLD BADEN MOUNTAIN
Address: Ba Den Mountain, Ninh Phu Quarter, Ninh Son Ward, Tay Ninh City, Tay Ninh Province
Phone number: 0327.222.227 – 0276.353.6666
Email: badenmountain@sunworld.vn